About Nana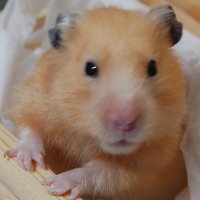 October 16th, 2004 - December 18th, 2006
Nana was one of Baru and Flan's babies. She was the smallest of all the litter, and also the most active and playful. She was always climbing the bars of her cage and hanging from the top with only two legs. She was a very strong little girl. She enjoyed eating in my hand since she was very young.
When the babies started to grow we had to separate them and put them in individual cages. Nana got the smallest cage because the was the smallest. She got extra handling because of that. Maybe that's the reason why she became such a sweet girl. Later she got her own Crittertrail cage.
She had a couple of prolapses when she grew up. Probably the reason was that the tubes in her cage were too thin for her. She didn't have that kind of problems anymore after moving her to a bigger cage without tubes.
She knew how to have lots of fun when she was playing on the floor. She liked to climb into the wastepaper basket and find treasures inside, she played on the floor with Flan, climbed everything climbable, ate pasta, drank milk, opened the cage door by herself, played with me, got happy when she got food, had birthday presents and helped me study in her own way.
When she got older she had pyometra and had to be operated, like Flan. Nana recovered very well, and just a few days after the surgery she was already playing as if nothing had happened. Later in her life she had problems with a tumor that appeared under her tail. The first two times it appeared in a place that was very easy to operate. She had the tumor removed twice. The third time it appeared in a place that couldn't be operated because because she wouldn't have been able to pee after the operation. She lived with the tumor until the end. In mid-December 2006 she got very ill. She died in my hands on December 18th.
She always made me smile when I was going through bad moments. I won't forget her.