About Coco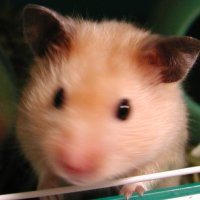 Born on October 16th, 2004
Coco is one of Baru and Flan's babies. He has inherited Baru's personality and is a very, very sweet little boy. He loves playing with people.
When he was a baby he was always sleeping alone when his siblings were playing or running around in the cage. It seemed that he was not well. When he was two or three months old we noticed that he had spasms in the right side of her body. His right hand and leg were shaking and he moved his mouth in a weird way. The doctor said that probably something was wrong with his nervous system and that most likely he wouldn't be able to do much. He gave Coco some medicine, and surprisingly, Coco recovered and has never had the same problem again.
When the babies were born we thougut about keeping only Nana, but Coco is so sweet that we decided to keep him too.
Coco is now living with his Mama in Tokyo.