About Luna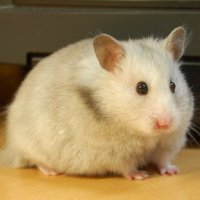 Born on February 16th, 2006
Luna came home a few days after Flan went to the hamster heaven. She was born at a breeder in Tokyo and was living in a nice cage with her sister until I brought her home. Her fur is very soft and long. She has very big black eyes with a very interesting reddish tone around the eyelids.
When she came home she was very shy. She came in a small cardboard box with some of the tissue paper and wood shavings from her cage at the breeder. She stayed in the big cage that she inherited from Flan, but she was afraid of coming out from the cardboard box. Soon she learnt to take food from my hand and in a couple of weeks she got used to being handled. She also learnt to make LOTS of noise inside her cage to call my attention.
Now she's a very lovely girl. She love sto be handled, but she doesn't stay in one place for more than a few seconds. She's a very active girl! Her favourite place at home is under the TV desk. The first thing she does every night when she comes out from her cage is go under the TV desk and groom her fur there for a while. After that, she goes to fight the evil curtains before moving on to something else.
Her favourite food is broccoli, but she also enjoys eating apple, bits of lettuce, sunflower and pumpkin seeds. She doesn't like birdseed or those small dark pellets that come inside hamster mix.
She seems to know her name, or at least she knows when I'm calling her. When she's playing in the floor and I can't see her, I just call her name and she comes out from her hiding place and comes running to see what I want (and to see if I'm going to give her some treats).