Saturday, December 24, 2005 - Posted by Baruchito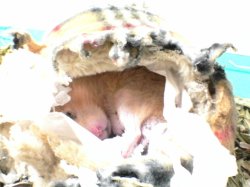 A few weeks ago I got this new bed too. It's very comfortable and warm, but it has a small problem: it breaks when you bite it. I can still use it, but now that it's colder it would be nice if I had a new place that I could fill up with warm tissue paper.
Perhaps I will ask for a new one for Xmas...