Tuesday, September 20, 2005 - Posted by Baruchito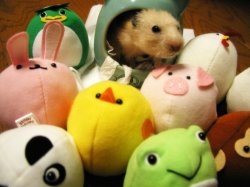 The other day when I woke up I noticed that my bedroom wasn't inside my cage. This has happened
before
several times and I'm used to it.
But this time
Nana's friends
where there waiting for me. I spent a while sniffing them, but they didn't smell like hamsters or even like other animals. It was more like Mama's clothes.
Anyway, I played with them for a few minutes and we had lots of fun together. They didn't move much, though.