Exploring my new home
Friday, June 16, 2006 - Posted by Luna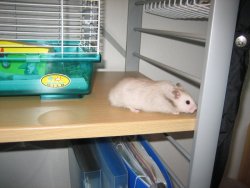 Papa introduced me to Nana the other day. She is ALMOST as cute as I am, and much bigger. Papa said that I when I grow up I will be like her, but my hair will be longer.
Nana told me a few tricks. She told me to gnaw the bars in the door of my cage whenever I want to play outside. The louder the better. I decided to try it. As soon as Papa put Nana back in her cage I climbed the bars of my cage and started gnawing the door. It took me a few tries after I learnt how to make the noise loud enough, but after a while Papa realized that I wanted to go out and opened my door. He put his hand outside my cage and waited. I climbed on his palm like Nana told me to do and he cuddled me for a while, but I didn't want cuddles. I wanted to explore. I climbed down from his hand and he let me play around my cage. I was very interested in the spot where Nana was sitting before.
After a few minutes Papa took me in his hands and put me back in my cage. I washed my face and I went to run in my wheel.
Nana told me that the room floor is a very interesting place. I hope Papa lets me play there the next time!