New roommate!
Thursday, June 15, 2006 - Posted by Nana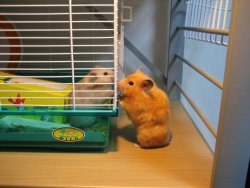 I found out where the noises are coming from! Tonight Papa let me play outside my cage and I climbed his shelves to gnaw on his books like usual. But this time instead of books I found another cage like mine. I thought that perhaps
Flan
had come back, so I went to take a look. At first I didn't see anything interesting, but there was a cute smell. I think it's the same smell that I noticed on Papa's hands.
I was investigating around this cage when a small grey ball of fur moved and came to the corner where I was. It was a small girl. Papa told me that her name is Luna and introduced us. She sniffed me through the bars and I sniffed her. She's ALMOST as cute as I am. But it looks like she's shy, because she went back to hide inside her nest. I wanted to play with her, but Papa put me again in my cage.
Tomorrow I will climb here again and see if I can play with her!