Spooky...
Wednesday, June 14, 2006 - Posted by Nana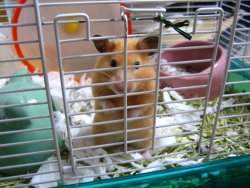 This is weird. Every night I gnaw the bars of my cage to make noise and tell Papa that I want to play outside. Usually the noise stops when I stop. But the last few days the noise doesn't stop. When I stop gnawing the bars the noise just goes on. It's like if the bars were making noise by themselves, or like there was someone else gnawing on another cage in response, but I know that's not possible because I can't see anyone else. Only Papa, and he doesn't gnaw on anything, he just takes photos.
I have also noticed that when Papa holds me sometimes his hands smell like a hamster (not me), but he's not a hamster! Maybe he's turning into one of us, I don't know.
But the weirdest thing is that sometimes at night I hear the noise of a wheel running, but that happens also when I'm not running on mine.
What could be going on here?