Hello everybody, I'm Luna
Wednesday, June 07, 2006 - Posted by Luna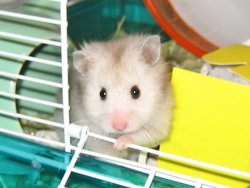 Nice to meet you, I'm Luna. I was born on February 15th and came to this home a few days ago. At the beginning I was very shy and afraid of every noise, but soon I realized that nothing bad happened. In fact, it was just the opposite: every time the big hairless hand appeared it gave me some sunflower seeds through the bars of my cage!
It turned out that the big hand belongs to a guy called Papa. He's big and doesn't have fur, so I don't think he's a hamster like me. I was afraid of him at the beginning, but now I like to climb on his hand because he lets me play outside of my cage and gives me treats.
Papa says that my name means "Moon" in Spanish, and that he chose this name for me because my fur is silver gray. I don't know what that means nor what those "Moon" or "Spanish" things are, but I don't care much, as long as he gives me treats and plays with me.
Sometimes I can hear noises even when I'm not biting the bars of my cage, and there's an interesting smell on this room. I think I'm not the only girl around here.