Flan
Thursday, April 06, 2006 - Posted by Javi Lavandeira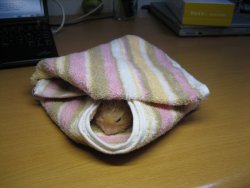 Tonight I had to stay at work until late. When I arrived home just an hour ago the first thing I did was check how Flan was doing. I found her lying in a corner of her cage outside her nest. I thought she was eating, but when she noticed me she tried to move. She only managed to move the upper part of her body, and she looked scared, very scared. I took her in my hand carefully. Her hind legs were cold and rigid. I think she is paralyzed.
I have wrapped her in a towel to make sure she's not cold. I have hand-feeded her some egg, and now she's in my lap as I write this, wrapped in her towel. She's sleeping.
It's almost 1:00am here. I will take her to the vet first thing in the morning.