Flan had surgery
Sunday, April 02, 2006 - Posted by Javi Lavandeira
Last week
I took Flan to the vet
because I was worried that she was too fat.
Dr. Ozawa
didn't find anything wrong with her. He said that she is too fat and needs to lose weight, and told me to put her on diet.
Earlier this week I checked Flan and Nana after I woke up, as every morning. I noticed that Flan had blood under her tail, so I prepared her travel cage and took her to see Dr. Ozawa. He decided that the best would be to give her an echography to see what was wrong.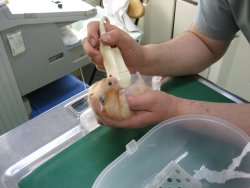 The echography showed dark areas inside her tummy. He explained that these could mean pus and that there was a very high possibility of pyometra (an infection of the uterus), and that Flan would have to have surgery as soon as possible. If it was indeed pyometra then Flan's womb would have to be removed. He explained that not having surgery would certainly mean Flan's passing away in a few days. Surgery would at least give her a chance. I agreed to the surgery and left Flan there with the doctor.
In the afternoon Dr. Ozawa called. When he operated Flan he saw that it wasn't pyometra. Instead, it was a blood clot neat the womb. He removed it. He said that Flan would have to stay at least three days in the hospital.
I went to see her the next morning. She was sleeping in her nest, and when I offered her a bit of boiled egg she took it and started eating, but she looked stressed and scared. I cleaned her cage right there and went to work. I visited her the following day too. One of the doctor's assistants told me that Flan wasn't eating well and that they had to hand-feed her, so I grew worried. However, when I saw her and gave her some fresh food, she took it from my fingers and started eating.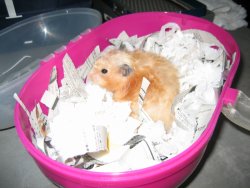 On Friday, Dr. Ozawa said that she was recovering well and she was eating again normally, so I could bring her back home again. I cleaned her big cage and put a thick layer of clean hay on it, but looked like she wasn't comfortable walking on it. I put her back in her travel cage while I replaced the hay with stripped newspapers and tissue paper. She didn't complain anymore.
Very carefully I took a photo of her tummy: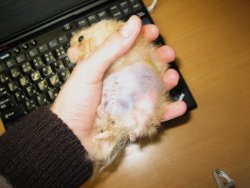 Next Saturday we'll go again to see Dr. Ozawa because he has to remove the stitches.
She is now sleeping most of the time and doesn't go out of her nest much. I guess that's normal after being operated. Apart from that, she's eating normally and can go to the toilet without problems. I saw her drinking from her water bottle yesterday.
She's getting extra treats for being so brave.