I want a PC HabiCase!!!!
Thursday, April 01, 2004 - Posted by Baruchito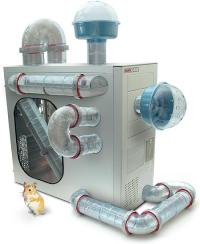 Today, when Papa and Mama went to work I was looking at websites on Papa's computer. And I found the home of my dreams: the
PC HabiCase
(
click here to see the full product page
). It is a PC case with a hamster home inside! I couldn't wait. When Papa arrived home, I was waiting for him in the door of my cage. I told him about the PC HabiCase. He looked at it, laughed, and then he told me that this is not a real thing, it is just a joke because today is April's Fools day. Too bad, because I wanted this cage to be more time with Papa, because he works a lot with his computer.
Human beings are strange animals. :-(