I need to lose weight
Tuesday, March 28, 2006 - Posted by Flan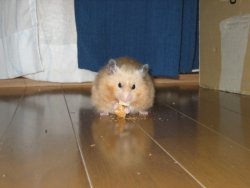 Papa thought that I'm too fat, so last week he took me to see Dr. Ozawa just in case. The doctor said that I'm fat and that I need to diet.
That's why Papa now only gives me very few seeds and more fresh food like lettuce and tomato. It is a pity, because I enjoyed eating toasted bread very much, and now I think I'm not going to taste it again for some time.
And also, why should I need to lose weight, if I'm already SOOOO cute?