Indeed, he's a fighter
Friday, January 27, 2006 - Posted by Javi Lavandeira
This morning when I woke up I was going to clean Baru, but there was nothing to clean. When I held him I saw that he hadn't either peed or "pooed" during the night. That was bad. I had fed him the night before, so there should have been something. I tried hand-feeding him some milk and some small bits of sliced cucumber, but he didn't want to eat any. I left him in his nest, covered him and went to work.
At lunch time I came back home to see him. There wasn't still anything to clean. I tried feeding him again, without success. I grew worried, but I had to go back to the office. It looked like he finally had given up.
In the afternoon I left work half an hour before. I wanted to come home early because I had decided that if he couldn't eat then it would be better if Dr. Ozawa put him to sleep, instead of letting him suffer and starve to death. When I arrived home the first thing I did was checking him. His condition was awful. He wouldn't move at all, and wouldn't eat nor drink. It was very hard for me, but I prepared his travel cage in order to take him to Dr. Ozawa's clinic.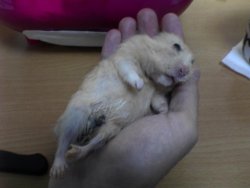 But even if this was going to be Baru's last trip, I didn't want him to go without food, so even though I didn't think he would be able to eat it, I cut a small cucumber slice and put it next to him. To my surprise, he moved his little head, sniffed it and then took a little bit and started to eat slowly. I went to the kitchen and chopped another slice in very tiny bits and took him for hand-feeding again.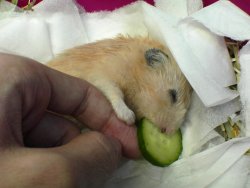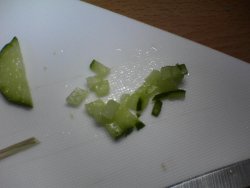 I gave him the tiny bits one by one, and at the beginning he swallowed slowly, as if it was hard for him to eat. But then after a while he started holding the food himself.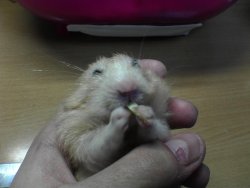 Around half an hour later he had finished eating the whole slice bit by bit, and also a few bits of apple. Very encouraged, I put him again in the travel cage next to the cucumber slice that I had left there before. He started eating it by himself without my help and ate more than half of it.
After he finished eating I took him again in my hand. His face seemed happy. I know that hamsters don't express happiness through facial expression, but this made me extremely happy nonetheless. See for yourselves: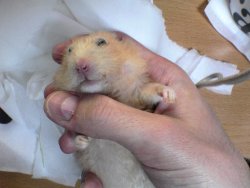 I took some warm water and a soft tissue paper and cleaned his eyes carefully. Then I put him on the computer desk to see if he could walk. With his two front pawns he managed to stand up weakly and drag his little body a few steps.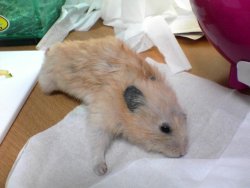 I have left him sleeping in the travel cage, because it's smaller and thus easier for me to keep warm. He's not moving from the nest anyway, so I don't think he minds.
He seems to be fighting a lot. And he looks better than yesterday. He has eaten very, very well today, and even though he cannot move his hind legs, it looks as if he's recovering. I had lost all hope already, but now I'm starting to think that there is a small chance that he might survive after all.
And by the way, I was eating yoghourt while writing this post and tried giving him a bit. He ate two drops of it.