Baru's condition, January 27th
Thursday, January 26, 2006 - Posted by Javi Lavandeira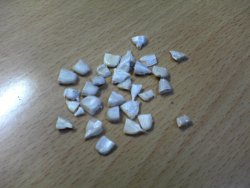 The day before yesterday when I checked Baru after coming back from work he was in his nest trying to peel a sunflower seed. He managed to do it, but the poor boy was exhausted. I decided to peel a few sunflower seeds for him. It wasn't as hard as I thought, but I learnt that fifteen sunflower seeds isn't such a big amount of food as it sounds like. I cut each seed in half in order to make them easier for him to eat, and then I left them in his nest near him. He ate a few pieces.
His condition hasn't changed since the 25th. His body is still as weak as it was then, though now it doesn't feel cold. He seems to be eating relatively well for his condition, and I'm having some success hand-feeding him small bits of boiled egg yolk, peeled sunflower seeds and thin slices of cucumber.
This morning I went through the routine of cleaning and giving him some water with sugar. Then I tried feeding him some tiny bits of sliced cheese while holding him in my hand, face up. He grabbed the first one with his little pawns and took a few bits of it, then swallowed the rest. He ate three or four more bits in the same way. Then he did something that he hadn't done yet these days: I gave him another bit of cheese and it looked like he didn't want more, but instead of refusing it by moving his mouth away from my finger, he took it and pushed it with his tongue inside his cheek pouch. He did the same with the three or four bits more that I gave him. After the feeding I made sure that his nest was warm, put him there and covered him with some tissue paper and came to work.
He's not giving up. And as long as he has the will to live I will do as much as I can to keep him with us.
Thank you everybody for your warm comments and your support. I'm deeply touched by them.