Concentration
Tuesday, January 10, 2006 - Posted by Nana
Papa needs lots of concentration for studying before the exams. That's why I decided to help him too,
like Baru does
. I thought that Papa would be very happy if I could help him. This is what I do when he's studying.
First, I climb Papa's trousers and sit on his lap for a few moments. I advise you to rest a bit too after you climb your papa's or mama's jeans!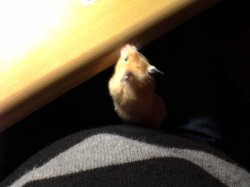 Next, I look into his desktop to make sure that he's studying and not playing with the computer. If he's playing then he doesn't need my help and I can go play too on the dustbin or biting his curtains.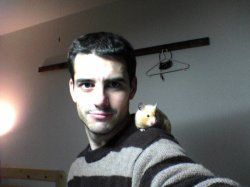 And finally, if Papa is studying I climb his sweater and sit on his shoulder. Then I scratch his neck and his ears to make sure that he doesn't lose his concentration. I don't stay on his shoulder for much time because after a few minutes I want to go back to play on the floor, but I'm sure that he will appreciate my help anyway.