I'm helping Papa to study
Tuesday, December 20, 2005 - Posted by Baruchito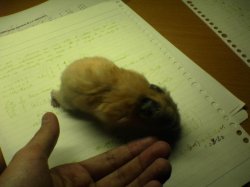 Lately Papa is very busy studying every night. He spends a lot of time on his desk writing numbers on pieces of paper, so I decided to help him.
When I wake up at night and Papa is studying, I ask him to put me on the desk with him. Then I walk on the paper sheets and point at the red things. I think that's where the mistakes are.
If I keep helping him then probably Papa will pass the exams!