Sushi for dinner
Monday, March 29, 2004 - Posted by Julita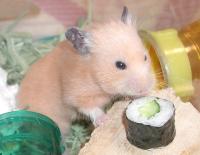 Today
Papa
and
Mama
bought some sushi for dinner. I was sleeping, like always, but when I woke up I found one nice
kappa maki
(cucumber roll) waiting for me on top of my corner house. I had eaten cucumber before, but never in sushi.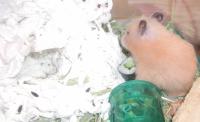 It turned out that I didn't like it too much. The rice used for sushi (
shari
) has vinegar, salt and sugar. I don't like any of those, so I just took the cucumber and left the rest. Papa will clean it later, like always.
In fact, Papa's finger looks delicious... Next time he brings me food I will try to bite his finger, as I did when I came to this home.
Now I'm full and I'm going to sleep again.
Oyasumi
.