New members in my family
Tuesday, January 11, 2005 - Posted by Baruchito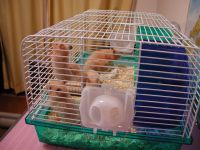 At last, finally Papa has some time to help me with my blog! First of all I will introduce you to the new members of my family.
Flan and I had five babies. Two girls and three boys. They all look like little copies of me. The boys are called Poteto, Sora and Coco, and the girls are Hana and Nana. In this photo they were still living with Flan. They looked nervous because Papa and Mama removed the second floor of their cage for cleaning. Flan tried to teach them how to use the toilet in the corner of the cage, but I think they were not paying attention.
Poteto was the first who left. He stayed for a few days with one of Papa's friends, but then he left that place too. Papa says that he has gone to the hamster heaven with Julita, because he didn't like the cold weather.
Hana and Sora are living with a friend of Mama's mama since last week. They are very lucky, because they have veeery big cages!
Coco and Nana are staying with us, in a different floor of our shelves.