So much to tell
Wednesday, October 20, 2004 - Posted by Baruchito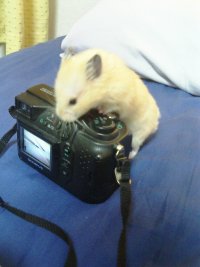 Lately Papa is very busy and can't help me post on my blog. But there are many things that I want to tell you about. Today I told Papa that I will not climb on his hand again unless he helps me posting. So here I am again.
Flan had three babies, but they did not survive. Probably the reason was that Flan was very nervous because it was her first time. But she recovered soon and became even more friendly than before getting pregnant. And much cuter, I should add.
After that, Papa made some reforms in our homes. I will tell you about that later. There is something more important to tell you: Flan got pregnant again. She had the babies last Saturday and they're growing very fast. This time Flan is very relaxed and is being a very good mama for them. I haven't seen my babies yet, but Papa said that there are 5-7. He didn't want to look much because Flan would get nervous.
Now while Papa is at work, I'm learning how to use the camera, because I want to take lots of photos when I meet my babies!