New friend
Thursday, August 12, 2004 - Posted by Baruchito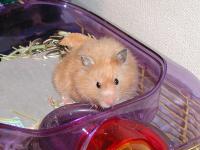 Julita has been out for some days now. I was sad because I thought that I wouldn't meet her again, but Papa told me that she has a new home in
Mount Takao
and that some day I will meet her again. I'm not sad anymore, but I missed some other hamster to play with... until this week.
This week a new girl moved into Julita's old cage. Her name is
Flan
(Mama says it means "pudding" in Spanish), and she is three months old. I have been playing with her only once, but I already like her very much. I think we will be very good friends, because she enjoys running on her wheel a lot, exactly as I do.
I'm going to clean my fur now because I think I will play with her later, and I have to cause a good impression! Wish me luck.