About Baru and Julia
Saturday, March 27, 2004 - Posted by Baruchito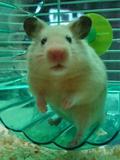 Hello, my name is Baru, but Papa and Mama always call me
Baruchito
. Well, not always. They call me Baru when I do something bad (like biting
Julita
or making noise late at night).
As you can see, I'm a hamster. To be exact, I'm a syrian hamster, which means that I'm big and fat (I weight 110 grams!), and that I like to live alone.
I like eating seeds, vegetables, cookies and bread, but I do not eat onion or garlic, because these are bad for my health.

This is Julita. She is my girlfriend. We are living in an apartment Tokyo, inside nice cages in the same room. We are not living in the same cage because as I said before, we syrian hamsters like to live alone. But we play together from time to time. She is fatter than me, because all she does is eat and sleep. She doesn't run much on her wheel as I do. But I don't mind. I like her very very much.
In this weblog we will talk about our hamster lives, what we do, what we like, and what we don't like. Thank you for reading us, and please come back often (and bring some sunflower seeds if possible!).