I have a new home now
Friday, April 06, 2007 - Posted by Oscar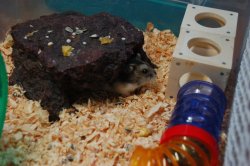 Papa cleans my cage every week. He usually puts everything back in its place so I don't get stressed. I just have to rebuild my tissue paper nest every time, but I don't mind.
Yesterday there was something different. My old straw home was in its usual place, but in the other side of my cage there was some kind of rock. In the beginning I was a bit nervous about it, but then I went to investigate. I climbed on it. Nothing interesting there. Then I decided to look around it and I found that it had a hole under it. I went inside and saw that there was a nice dark space there. Just as I like it!
I went out an in a few more times to make sure that it was safe. Everything seemed to be fine and I decided to build my new nest there.
Later during the night I moved some of my tissue paper from the straw home to the new nest under the rock.
Papa told me that rock is sold in the pet shop as a house for fish, but that's crazy. Everybody knows that fish live in the water, and there's no water under this rock!