Looks like today it's my birthday
Friday, February 16, 2007 - Posted by Luna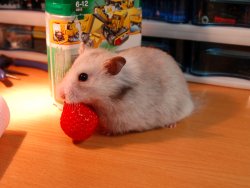 Tonight when Papa came home he told me that it is my first birthday today. I don't know what this birthday thing is, but it must be something good because Papa brought me a present. It was a strawberry. I had never eaten this thing before and I got very happy.
I decided to eat it in my nest, so I took the strawberry in my mouth and started walking on Papa's computer desk, but I couldn't find the way to my cage. Finally Papa took me and put me there. I went into my nest and started eating the strawberry.
Oscar got a strawberry too, but it was too big for him. He ate part of it in front of his nest.
I hope I will have more of these "birthday" things this week, because it looks like it is cool!