Goodbye, dear Nana
Monday, December 18, 2006 - Posted by Javi Lavandeira
It's 3:40am now. Nana is on her way to the Hamster Heaven. She's going to meet Baru, Julia, Poteto, Sora and Flan there.
About an hour ago I saw her go out from her nest. She laid down in front of her wooden home. She had a spasm and I knew that she was going to leave soon. I took a warm towel and I put her on my lap. The only thing I could do was being with her in her last moments. She stopped breathing just a few minutes ago. This is her last photo, and most likely how I will remember her: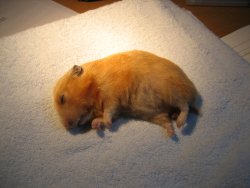 She was the most wonderful hamster I've ever had. She was with me since the day she was born. She always made me smile when I was going through bad moments. I will not forget her. Thank you, my dear Nana.
Thank you also to all of you who donated for her surgery. It's not needed anymore, so I have disabled the donation button and refunded the money to those of you who helped.