Milk in my cage
Monday, December 04, 2006 - Posted by Nana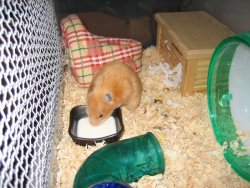 The other night I woke up to go to the toilet and I saw something new in front of my wooden home. It was small and dark and it looked interesting. I went to investigate and found that it was full of milk! Did I say that I like milk very very much?
I drank a lot if milk and then went to sleep again. I woke up several times during the night and drank more. In the morning it was full again. That happened the next day too. No matter how much milk I drink, it always has fresh milk inside in the morning and night.
I think Papa has something to do with this, don't you think?