Hello everybody, I'm Oscar
Tuesday, October 24, 2006 - Posted by Oscar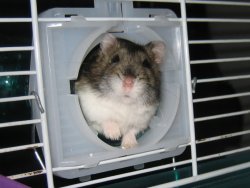 Nice to meet you. My name is Oscar and I'm a Campbell russian hamster (but I was born here in Japan around one year ago).
My Mama and Papa live in Japan, but they're from Australia. They have to go back to they country and can't take me with them. Because of that I'm staying with my new Papa since last Saturday. I have already met Nana and Luna. They're huge!
I'm still a bit shy because I haven't got used to my new home yet. The first two days I didn't go out from ny nest much because I was a bit afraid of the new smells around me. Now I'm not afraid anymore and I take food from my new Papa's hand and play with him sometimes. Yesterday night he let me play on top of his bed for a while and he gave me some broccoli.
At night I like running very fast in my new wheel. Now I'm going to explore this place a little more. I will tell you what I find!