Got new cages!
Tuesday, October 24, 2006 - Posted by Nana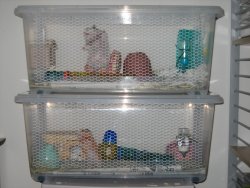 Papa made new cages for Luna and me! He wasn't breaking those boxes after all!
The new cages don't have a door. They have a veeeery big opening on the front covered with a white wire mesh (very good for climbing). When we want to play outside all we have to do is climb the wire mesh and then Papa comes and opens the top of the cage and takes us outside.
Papa says that the cages are 70x36 centimeters long. These are a lot of centimeters, whatever they are. I have been looking for these centimeter things everywhere, but I haven't found any. Maybe they were afraid that I was going to eat them and they ran away.
Many of you said in the comments that Papa was making a cage. How did you know? Did he tell you?