My back hurts
Monday, October 09, 2006 - Posted by Nana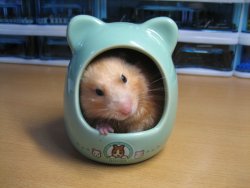 Lately the bump under my tail had been growing little by little, so yesterday Papa put me in my travel cage and took me to Dr. Ozawa's clinic. When we arrived, Dr. Ito saw me and then he let me play in his hands while he talked to Papa.
I don't know very well what happened, but suddenly I got very very sleepy. When I woke up I was lying in a warm towel and I couldn't feel my back legs. I couldn't walk, so I waited. I got a bit nervous. Little by little I started feeling my legs again. After a while I could walk again like usual.
But the bump under my tail hurt. When I looked, I saw that the bump wasn't there anymore. Perhaps it left while I was sleeping.
When we got back home the place where the bump had been still hurt. It hurt a bit when I walked, but I forgot about it when Papa brought Luna and me some hard boiled egg.
I'm still wondering how could the not-so-little bump leave while I was sleeping without me noticing.