Back in my wooden home
Saturday, August 12, 2006 - Posted by Nana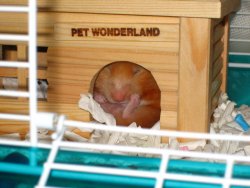 Papa removed my wooden home from my cage when I got sick and Dr. Ozawa put those stitches in my tummy. He said that he was worried that I might hurt my belly.
Now that I don't have the stitches anymore Papa brought my home back. He left some tissue paper nearby after cleaning my cage, and I took it and made a new nest inside.
I'm very happy to have my comfy home back.