Bye, stitches!
Wednesday, August 09, 2006 - Posted by Nana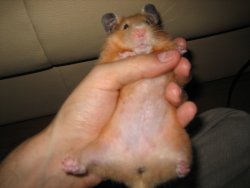 Papa took me to see Dr. Ozawa again. I thought that maybe he was going to put more things in my belly like he did the last time, or give me more of that yummy medicine (Papa doesn't give me more because I already drank it all).
But no. He didn't give me anything or put things on me. Instead, he removed MY stitches. Papa held me facing up while Dr. Ozawa cut the wires carefully with a pair of scissors. I didn't feel anything when he cut and removed the first two, but he had some trouble removing the third and it hurt me a bit. I got a bit nervous and wanted to leave, but Papa was holding me to make sure that I wouldn't move. In a few minutes he had removed all of them. Dr. Ozawa took me and played with me for a few moments. He checked my belly again and said that I was fine.
What I don't understand is why he removed MY stitches. I already got used to them. The first days after he opened my belly they hurt a lot, but lately they didn't hurt at all. I think they looked cool, like the one that Papa has on his tongue.
Now I have a very big scar in my belly. Soon it will be difficult to see because my fur is growing back. Perhaps I should ask Papa to shave me sometimes so I could show it to everybody...