Two sexy girls
Thursday, July 13, 2006 - Posted by Nana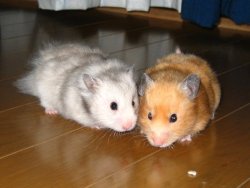 Tonight Luna and I were playing on the floor of the room. It was Luna's turn to be inside the ball, because Papa doesn't allow us to be out at the same time. He says that we could fight.
When we're playing we always make lots of noise because we like to crash the ball against the walls and against the furniture. That's how Papa knows where we are and what we're doing. But tonight we were quiet for a while and he came to see what we were doing. He found both of us freezing, Luna inside the ball and me in front of her.
Freezing is what we do every four days if there is a handsome hamster boy near us: we raise our tail and stay there without moving. We also do it when Papa strokes our back.
Papa took Luna out of the ball, put her on the floor and watched. Luna came near me and we sniffed each other, then we both freeze on the spot. Papa thought it was very funny. We stood like this for a full minute without moving at all, then we realized that there wasn't any handsome hamster boy near us. I ran under the bed and Luna followed me, without the ball. Papa took us and put us in our cages.