Oh, you're there!
Monday, July 10, 2006 - Posted by Nana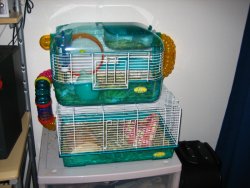 I found Luna! The other night Papa put me on the floor while he was cleaning my cage. While he wasn't looking I had the chance to climb a shelf that's in the other side of the room and I found Luna's new cage there. I think Papa was listening, because he soon came to keep an eye on me. I climbled to the cage bars and Luna came to greet me. She told me that now she has more space and even a small room to sleep, but that what she really likes the most is when Papa lets her play on the floor and on the bed.
Now I understand why Papa has cut my play time in half since she came to this home.
Anyway, after I visited Luna Papa put me again on the floor. I was fighting with the evil curtains until he finished cleaning my cage. I won, like usual.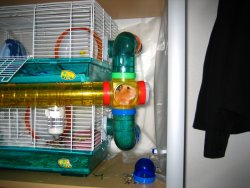 When Papa put me again in my cage I noticed that one of the sides had a hole. I thought that maybe Papa broke it while he was cleaning and I went to check. It wasn't broken, it was a tunnel. There's another cage in the other end and a window in the middle. Papa's hand was waiting near the window in the middle of the tunnel, but I was more interested in seeing the other end. I inspected the other cage and saw that everything was fine. When I went to check the window again it was covered and Papa's hand wasn't there.
That night I was busy playing on the new wheel and going up and down the tunnel for no reason at all.